How To Pick a Training Belt
At GASP we've been designing and selling accessories for hardcore workouts for years. We understand that you put as high demands on your workout gear as you put on yourself and we are here to support your journey.
A training bag essential is for many a belt. Whether you call it training belt, lifting belt, workout belt, strength training belt, weight lifting belt, or something similar - we are all referring to the same type of product.
For most people who train hard and perform the basic exercises like squats and deadlifts on a regular, a solid belt can be a good workout companion to add some support and increase safety and performance.
While there are all kinds of belts available on the market made in different materials like neoprene, nylon and memory foam. The most durable type of belt is made of leather, as they are very durable and can can be broken in over time.
We offer a few different belts in the GASP assortment as outlined below. A common denominator for all of these is the high quality and the fact that they are all made out of leather. Picking between the these will depend on personal need, preference, and budget. Check out the differences and choose for yourself.
Our GASP Training Belt is a really strong and durable belt for a good day in the gym. It has black synthetic Amara leather on the outside and natural suede on the inside. The buckle is high quality and it has double prong holes for good stability. This belt is 10 cm (4 inches) wide.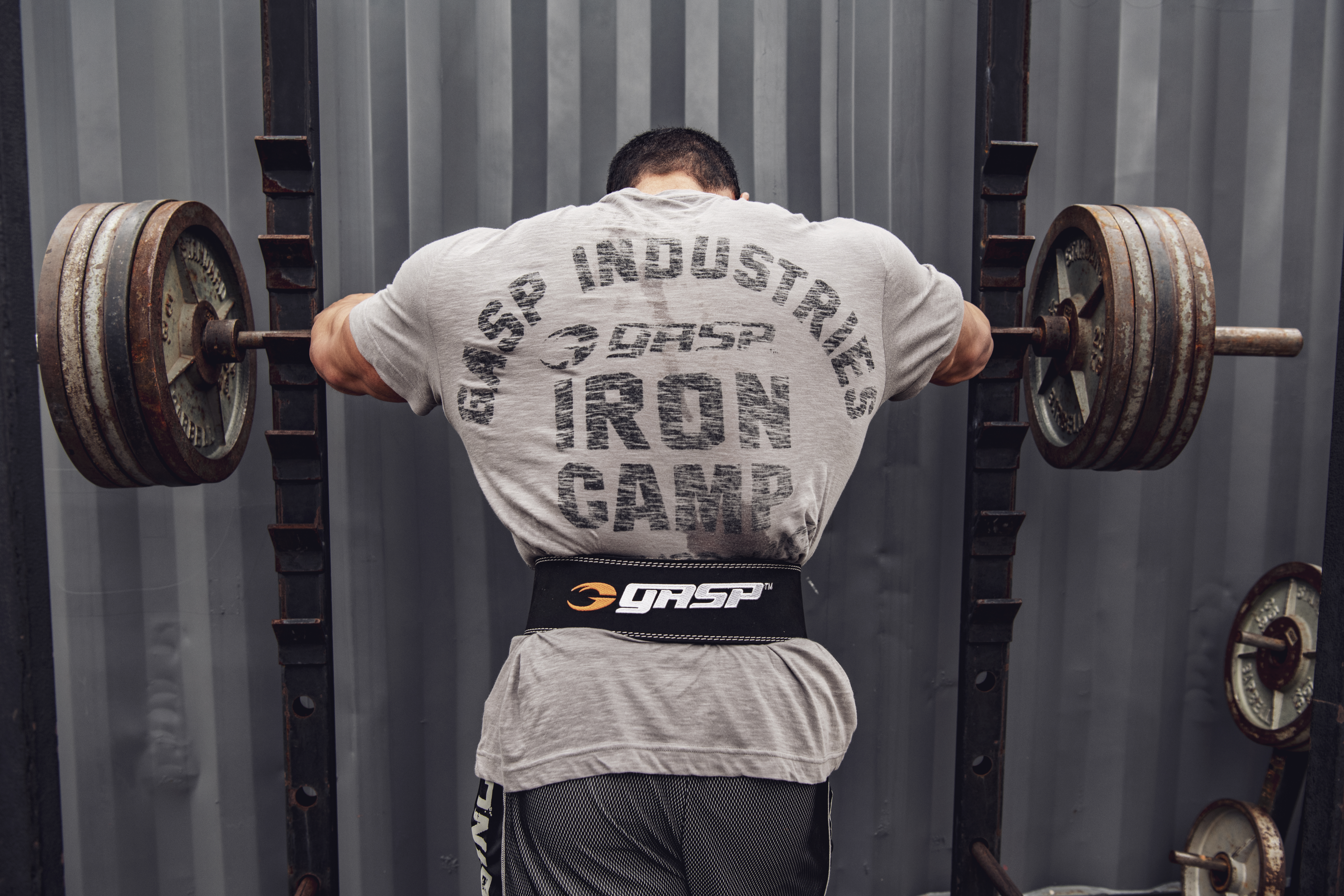 The GASP Power Belt is created to support your heaviest lifts. It is made of 100% genuine leather and is 13mm thick and 10 cm (4 inches) wide. It is a single prong belt with close prong holes for precise fittings. The holes are also ellipse shaped for easier use.
GASP Lifting Belt is our newest GASP belt. It is extremely soft yet still provides stability and support for most of the lifts in the gym. Once you put it on, you'll notice that the leather moves with your body and the more you use it, the more it'll shape and form with you. This makes the GASP Lifting Belt a lifelong training companion. The rivets are exchangeable, and we've added a heavy buckle with 2 pins and 9 prong holes for the perfect adjustable fit. A solid lifting belt is a given in any GASP Athletes training bag and over the years we've perfected a variety of specialty belts for the heaviest loads to this new GASP Lifting Belt which is a belt more suitable for all occasions in the gym. With the help of a strong demand and feedback from our community we see this as must have products as most of our athletes benefit from using a general belt that gives a great support while reducing the risk of injuries.
The GASP Lifting belt has received many good testimonials from athletes in the industry, check out what they say below:
"Unlike other new belts you buy that are very stiff and take a while to break in, this one was the complete opposite, soft, form fitting but very supportive on my back. Love it!" - Shaun Clarida
"Great overall fit and doesn't restrict me while I'm training. I don't know a better way to describe it, it is really legit. Just honestly love the feel of it." - Jonathan Irizarry
"I've used a lot of belts, from a lot of different manufacturers, and I like it. You can tell it's quality, the leather is soft and pliable but doesn't stretch/ provide enough support. The tapered profile makes it comfortable to row and do other exercises that call for a bent over position." - Hunter Labrada
"The belt feels amazing, feels supportive and fitting. Feels like it already has been broken into, but the support and feeling is still brand new." - Johnnie Jackson
"Belt felt like it was already broken into, which is awesome, and it's thicker than a standard leather belt but not like a power lifting belt which takes forever to break in. So you have the added thickness for back protection with the soft leather makes for a great fit and support for all." - Guy Cisternino
"This belt feels amazing, the fitting and feel of the leather just fits perfectly. You don't get a pinch feeling doing a lot of rowing movements." Joseph Mackey